Dr. Anand Kumar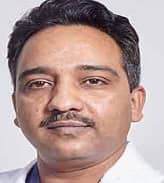 Main Speciality:
Interventional Cardiologist
Cardiac Anaesthesia, Cardiothoracic and Vascular Surgery (CTVS), 18 years of experience,
Gurgaon, India

Send Enquiry
About Doctor
Dr. Anand Kumar is a cardiologist with 18+ experience. He is a member of the Indian Society of Anesthetists. Is a lifetime member of the Indian Association of Cardio Vascular and Thoracic Anaesthesia. Dr. Kumar expertise lies inTEEMinimal invasive cardiac surgery and LVAD. Under his credit, there are numerous national and international publications.
Specialization
TEE
Minimal invasive cardiac surgery
Awake CABG
LVAD
ECMO.
Education and Training
MD, A.P.S. University.
MBBS
Location
India
Get Expert Opinion from Dr. Anand Kumar.