Dr. Amit Chandra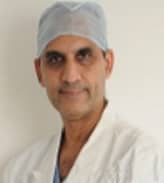 Main Speciality:
Interventional Cardiologist
Principal Consultant , MCh, MS, MBBS, 30 years of experience
Gurgaon , India

Send Enquiry
About Doctor
Dr. Amit Chandra has an experience of more than 30 years in Cardiac Surgery. He is the Associate Director of Department and Principal Consultant at Medanta Medicity, Gurgaon for Cardiac Surgery.
Dr. Chandra has been commended for performing over and above 2000 independent cardiac surgical procedures and about 10000 open-heart surgeries.
He finished his MBBS in 1987 from King George's Medical College, Lucknow. Thereafter he pursued MS in General Surgery in 1990, afterward in 1992, He did MCh in Cardiothoracic and Vascular Surgery at King George's Medical College.
He has been upskilled with Dr. Denton A. Cooley at Texas Heart Institute, USA. His areas of competence are in Cardiovascular Surgery, Heart Valve Repair, Mitral Valve Surgery.
Specialization
Cardiac Catheterization,
Coronary Angioplasty / Bypass Surgery,
Patent Ductus Arteriosus Device Closure,
Coronary Angiogram,
Pacemaker Implantation,
Intra – Arterial Thrombolysis,
Cardiac Ablation,
Carotid Angioplasty and Stenting,
Heart Transplant
Education
MCh, 1992, King George's College, Lucknow
MS, 1990, King George's College, Lucknow
MBBS, 1987, King George's College, Lucknow
Location
India
Get Expert Opinion from Dr. Amit Chandra.