Prof. Dr. Suresh H. Advani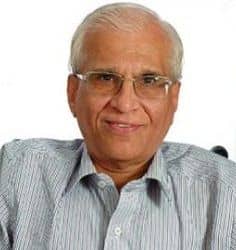 Medical and Pediatric oncologist and Hemato-oncologist
Main Speciality:
Medical and Pediatric oncologist and Hemato-oncologist
43 + years of experience
Qualifications:
MBBS, MD, Fellow (Medical Oncology)

Send Enquiry
About Doctor
Dr. Suresh H. Advani, the wheelchair-using doctor is one of the best oncologists in India who pioneered Hematopoietic Stem Cell Transplantation with his experience of more than 43 years. He gained experience in the field of Bone Marrow Transplant from Fred Hutchinson Cancer Research Centre, Seattle, Washington and worked with Dr. E Donnall Thomas, known as the father of Bone Marrow Transplant who won the Nobel Prize in medicine in 1990. He was part of clinical trials to help children with lymphoblastic leukemia and was conducted on 1,200 patients. With his immense experience and expertise in field of Bone Marrow Transplant, He successfully transplanted bone marrow into nine-year-old girl suffering from Myeloid Leukemia. He have been involved with about 500 National and International Publications.
Work Experience:
He is currently associated as Senior Consultant (S L Raheja Hospital Mahim, Mumbai).He worked as a Medical Oncologist, Senior Consultant at Tata Memorial Hospital, Mumbai for many years .He became the Chief of Department of Medical Oncology at Tata Memorial Hospital, Mumbai .He played an important role in establishing the Doctor Of Medicine (DM) in Medical Oncology at TMH, University of Mumbai. He is also a member of Indian Society of Oncology (ISO), Medical and Pediatric Oncology Society and Secretary, Indian Journal of Haematology and Blood Transfusion.
Speciality Interests:
He is an expertise in Bone marrow and Stem cell transplant, Lymphomas, Acute leukaemia's, Multiple myeloma, Breast Cancer, Spreading Cancer awareness and Cancer education, Clinical Trials.
Awards and Honours:
He is the recipient of highest civilian awards of India, namely Padma Bhushan Award in 2012 and Padma Shri by Government of India in 2002 for his exceptional work and dedication in field of Oncology. He was honoured with Dhanvantari Award in 2002, Dr. B. C. Roy National Award by Medical Council of India in 2005, Rashtriyra Krantiveer Award, and Ujjain in 2014 and awarded Lifetime Achievement in Oncology by Harvard Medical International in 2005.
Location
India
Get Expert Opinion from Prof. Dr. Suresh H. Advani