Dr. Vivek Verma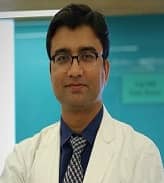 Medical Oncologist
Main Speciality:
Orthopaedic Oncosurgeon
10+ years of experience
Qualifications:
DNB, MBBS.

Send Enquiry
About Doctor:
Dr Vivek Verma is an experienced orthopaedic oncologist trained at the premier cancer institute in India, Tata Memorial Cancer Centre Mumbai and has worked at MIOT Hospitals, Chennai. He has also worked at advanced orthopaedic centre at BG klinik, Tuebingen in Germany to enhance his skills in trauma and arthroplasty. With a demonstrated competency in his core subject of orthopaedic oncology, he is currently heading the division of musculoskeletal (orthopaedic) surgical oncology at Max Hospitals, Patparganj and Vaishali ( Delhi / NCR). He is also a visiting consultant at Max Super speciality Hospital, Dehradun. He has also started a monthly visit in Bihar at Mahavir Cancer Sansthan, Patna.
Specialization:
Bone tumors,
Atypical Lipomas,
Fibromatosis,
Retroperitoneal Tumors,
Melanoma,
Squamous Cell Carcinoma,
Metastatic bone disease
Education:
Fellowship, 2016, Tata Memorial Centre, Mumbai
Fellowship, 2012, BG Klinik, Tubingen, Germany
DNB, MIOT Hospitals, Chennai
MBBS, B.J Medical College, Pune.
Location:
India
Get Expert Opinion from Dr. Vivek Verma