Dr. Vivek Belathur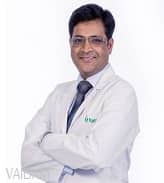 Medical Oncologist
Main Speciality:
Medical Oncologist
15+ years of experience
Qualifications:
DM, MD, MBBS.

Send Enquiry
About Doctor:
Dr. Vivek Belathur is an eminent Medical Oncologist with a vast experience of nearly 15 years. He has a keen interest in cases related to preventive oncology, breast cancer, GI cancer, bladder cancer, lymphomas, head & neck tumors and many others. He also has extensive experience in immunotherapy, targeted therapy, and Molecular genetic based treatments.
Dr. Vivek completed MBBS from Mysore Medical College in 2001, followed by MD in General Medicine from Bangalore Medical College and Research Institute in 2005.
He also did DM in Oncology from Kidwai Memorial Institute of Oncology in 2013. Previously, Dr. Vivek has worked with reputed hospitals outside India such as The Tweed Hospital NSW Australia.
At present, he is a member of ASCO, ESMO, and ISMPO. He has made several presentations and publications at national and international levels, and also has been involved in many clinical trials.
Specialization:
Breast Cancer Management
Head and Neck Tumor / Cancer Surgery
Chemotherapy of Solid Tumors
PICC Line Insertion
Chemotherapy of Haematological Malignancies
Stem Cell Transplantation
Melanoma Treatment
Breast Cancer Treatment
Giant Cell tumour Treatment
Ewing's Sarcoma Treatment
Cancer Treatment
Cancer Screening (Preventive).
Education:
DM, 2013, Kidwai Memorial Institute of Oncology.
MD, 2005, Bangalore Medical College and Research Institute, Bangalore.
MBBS, 2001, Mysore medical college.
Location:
India
Get Expert Opinion from Dr. Vivek Belathur