Dr Vineet Govinda Gupta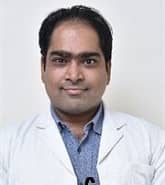 Oncology and Haematology
Main Speciality:
Medical Oncology and Hematology
12 + years of experience
Qualifications:
MBBS (AIIMS), MD Medicine (AIIMS), DM Medical Onco

Send Enquiry
About Doctor
Dr. Vineet Govinda Gupta is one of India's foremost Clinical Hematologist and a leading Bone Marrow Transplantation specialist currently practicing at Artemis Hospital in Gurgaon. He is known for excellent patient outcomes and this has earned him excellent reputation of being among the best in this field of specialization.
Dr Vineet Govinda Gupta has been part of a highly prestigious legacy – He has received his education and worked at the All India Institute of Medical Sciences (AIIMS New Delhi) for over 12 years, where he has participated extensively in clinical care as well as research. Over the course of his career he has won numerous awards including the coveted AIIMS Gold Medal for best outgoing medical oncologist and many other national and international awards. Further, he has published numerous research papers in top medical journals in the country and abroad including publication of the first retrospective study of immunotherapy drugs (checkpoint blockers) from India in 2018.
Cancer is a extremely difficult diagnosis for any person and cancer treatment is often misunderstood, difficult, exhausting and expensive. Throughout his practice, he has always followed the principle of viewing patients from a standpoint of "how would I treat my own family member?" It is his goal to offer patients the best possible care at a level available anywhere in the world, while maintaining a personal and compassionate touch.
Clinical Expertise:
Cancer immunotherapy.
Cancer targeted therapy.
Personalized and Genomic therapy of cancer Chemotherapy Hormone therapy.
Hematopoietic stem cell transplantation.
HONOURS AND AWARDS:
Shakuntala Jolly Gold Medal (Medical Oncology): AIIMS New Delhi.
European Society of Medical Oncology 96.7th percentile (among worldwide oncologists).
International Society of Pediatric Oncology Young Investigator Award (SIOP YIA) 2016 – SIOP 2016 Congress (October 2016, Ireland).
Gold medal for 100th percentile score: University of New South Wales, Australia.
Recipient of numerous international grants and awards: Singapore, Czech republic, Ireland.
Publications : Dr Gupta has numerous peer-reviewed publications in reputed Indian and International peerreviewed journals. This includes the top 5 oncology journals in the world like JCO, NEJM and Lancet Oncology.
Location
India
Get Expert Opinion from Dr Vineet Govinda Gupta