Dr. Arun Kumar Giri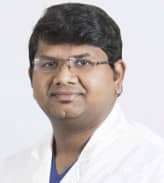 Medical Oncologist
Main Speciality:
Surgical Oncologist
8+ years of experience
Qualifications:
MBBS, MS.

Send Enquiry
About Doctor:
Dr. Vidya Bhushan R ist ein Onkologe für Kopf- und Halschirurgie mit Mehr als 8 Jahre von Erfahrung.
Zu seinen Fachgebieten gehören die chirurgische Onkologie des Kopfes und des Halses sowie die endoskopische Schädelchirurgie. Er hat das Uic-Icrett-Stipendium für endoskopische Schädelbasis-Chirurgie 2017 erhalten.
Dr. Bhushan ist Mitglied der FHNO Federation of Head & Neck Oncology, der SBSI Skull Base Society in Indien und der AOI Association of Otolaryngology India.
Nach Abschluss des MBBS promovierte er am renommierten indischen Krankenhaus. Er hat mehrere nationale und internationale Präsentationen zu seinem Verdienst.
Specialization:
Head and Neck Surgical Oncology
Endoscopic Skull Based Surgery
Education:
Location:
India
Get Expert Opinion from Dr. Vidya Bhushan R