Dr Venkat P
Dr Venkat P – Surgical Oncologist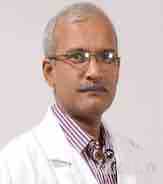 Main Speciality:
Surgical Oncologist
21+ years of experience
Qualifications:
MBBS, MS Mch

Send Enquiry
About Doctor
Dr. Venkat P is a highly experienced General Surgeon & Surgical Oncologist with an experience of nearly 21 years. He is specialized in Lung Cancer Treatment, Liver Disease Treatment, Pap collection, Brachytherapy (Internal Radiation Therapy), Steatosis, and Lymphedema.
He has received the Dr. V.N.C. Rao Gold Medal Anatomy 1986-87, Dr. Govinda Reddy Medal Pathology and Microbiology 1987-88, and many more awards for his exceptional work in the field of Medicine. Dr, Venkat P was also the first candidate to pass FRCPath 2001 December in Paediatric Haematology in the UK.
He is a member of Indian Medical Association (IMA). Some of the services provided by the doctor are: Pap collection,Vascular trauma,Lung Cancer Treatment,Brachytherapy (Internal Radiation Therapy) and Cancer Screening (Preventive) etc.
Specialization
Liver Disease Treatment
Pap collection
Brachytherapy (Internal Radiation Therapy)
Steatosis
Lymphedema
Education
MBBS, 1997, Tamil Nadu Dr. M.G.R. Medical University (TNMGRMU)
MS, 2000, Sri Ramachandra University, Chennai
MCh, 2005, Rajiv Gandhi Institute of Medical Sciences, Adilabad
Location
India
Get Expert Opinion from Dr Venkat P.