Dr. Haresh Manglani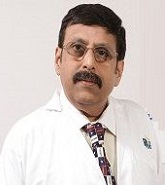 Radiation Oncologist
Main Speciality:
Radiation Oncologist
23 + years of experience
Qualifications:
MBBS (Madras University, Chennai), MD Radio Therapy [The Tamil Nadu Dr. M.G.R. Medical University (TNMGRMU)], DMRT (Madras Medical College, Chennai)

Send Enquiry
About Doctor:
He is very accomplished oncologist in India with vast experience of more than 30 years. His areas of Interest are High Precision Radiotherapy like SRS, SRT, IMR, and IGRT & CyberKnife. He is an experienced, skilled and awarded doctor in his field of specialization. He was a recipient of the Dr. A.L. Mudaliar prize for his outstanding performance in his DMRT. He attended the Princess Margaret Hospital in Toronto, The Brooke Regional Cancer Centre in Toronto and University Hospital in Berlin, Germany to expand his expertise in field of oncology.
Work Experience:
Dr. A N Vaidhyswaran is a senior consultant for Radiation Oncology at the HCG Hospital. His interest lays in certain high degree medical procedures like high precision Radiotherapy namely Stereotactic Radiosurgery, Stereotactic Radiation Therapy, Intensity Modulated Radiation Therapy, Image-Guided Radiation Therapy and Cranial Cyber-Knife Radiosurgery and has mastered them all. He is a lifetime member of The Indian Society of Oncology, Indian Brach therapy Association and the Association of Radiation Oncologist of India.
Speciality Interests:
He has special interest in Cancer Screening (Preventive),Brach therapy (Internal Radiation Therapy),External Beam Radiation For Prostate Cancer, Genitourinary Malignancies, Gastrointestinal Endoscopic Mucosal Resection, Intensity Modulated Radio Therapy (IMRT),Treatment of Central Nervous System Tumors, Stereotactic Radio Therapy (SRT),Stereotactic Body Radio Therapy (SBRT),Cranial Cyber-Knife Radiosurgery,Radiotherapy,Image Guided Radio Therapy (IGRT),Stereotactic Radio Surgery (SRS).
Location
India
Get Expert Opinion from Dr. Vaidhyswaran A N