Dr. Syed Afroze Hussain
Dr. Syed Afroze Hussain – Surgical Oncologist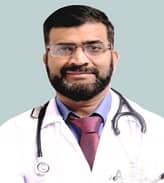 Main Speciality:
Surgical Oncologist
20+ years of experience
Qualifications:
MBBS, MD

Send Enquiry
About Doctor
Dr.Syed Afroze Hussain is a renowned Surgical Oncologist, with a thriving experience of more than 20 years.
His expertise lies in the Head and neck malignancies- surgical resection and reconstruction, Breast tumours- both conservative and radical resections, sentinel node mapping, reverse axillary mapping, Gastro-intestinal malignancies – endoscopic evaluation, laparoscopic diagnosis with resection, Open surgical procedures, Gynaecological malignancies, and Musculoskeletal tumours – limb-sparing and amputatio.
His area of interest lies in Cancer surgeries, including surgeries of GI tract Cancers. Dr. Syed has several research publications in national as well as international scientific journals.
Specialization
Cryosurgery
Laser surgery
Electrosurgery
Microscopically controlled surgery
Breast Cancer Management
Gynecological Cancer Treatment
Head and Neck Tumor
Cancer Surgery
Lung Cancer Treatment
Cancer Surgery
Cancer Screening (Preventive)
Breast Cancer Treatment
Mastectomy
Parotid Surgery
Giant Cell tumor Treatment
Ewing's Sarcoma Treatment
Thyroidectomy
Lumpectomy
Mohs Surgery
Breast Reduction Surgery
Education
Location
India
Get Expert Opinion from Dr. Syed Afroze Hussain.