Dr. Sumit Goyal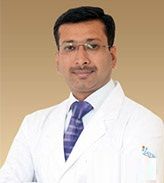 Dr. Sumit Goyal – Cancer Treatment
Medical Oncologist
11+ years of experience
Qualifications:
M.B.B.S (Assam Medical College, Dibrugarh, Assam), M.D.-General Medicine (NSCB Medical College, Jabalpur), D.M-Medical Oncology (Cancer Institute, Adyar, Chennai)

Send Enquiry
About Doctor
Dr Sumit Goyal is a well-known and accomplished oncologist in his field of specialisation. With his vast experience of 11 years, he has worked with best Cancer Centers in India. He has expertise in genitourinary medical oncology, Head and neck Oncology, Hepato-Pancreato-Biliary oncology, Breast, Lung and thoracic Oncology, Hematology- Oncology. His work includes practical treatment of patients and clinical research. He has passed the prestigious ESMO Certification Examination in Medical Oncology with his skill and dedication. He has appeared in various newspapers like Hindustan Times, Where he published the article on the most common causes of head and neck cancer and had received appreciation for his social work.
Work Experience
He is presently working as Senior Consultant, Dept of Medical Oncology at Rajiv Gandhi Cancer Institute, Delhi. He was a former Consultant in Jaypee Hospital, Noida. He holds membership with several prestigious organisations like European Society of medical Oncology (ESMO), Association of Oncologist of North East India (AONEI) and Indian cooperative Oncology Network (ICON).
Specialization
He holds specialisation in Colorectal & Gastrointestinal Oncology, Genitourinary medical oncology, Head and neck Oncology, Hepato-Pancreato-Billiary oncology, Breast, Lung and thoracic Oncology and Hematology- Oncology
Location
India
Get Expert Opinion from Dr. Sumit Goyal
WhatsApp Consult Now