Dr. Suman S Karanth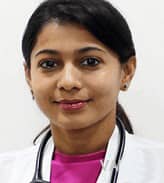 Medical Oncologist
Main Speciality:
Radiation Oncologist
5+ years of experience
Qualifications:
DNB, MD, MBBS.

Send Enquiry
About Doctor:
Dr. Suman S Karanth is a medical oncologist with 5+ experience. Her expertise lies in Solid malignancies, Lymphoma, Dendritic Cell therapy, and Immunotherapy, including the APECEDEN vaccine which is the only Dendritic cell therapy approved in India.
She is a member of the American Society of Clinical Oncology [ASCO] and the European Society of Medical Oncology [ESMO]. Got first place in Oncology quiz held at 9th conference of SAARC Federation of Oncology in 2014.
Received award for Best Paper Presentation Titled Metabolic Syndrome and for Total Lymphocyte Count (TLC ) As A Surrogate Marker For Absolute Cd4+ Count In Hiv – Infected Persons in conferences.
Specialization:
Dendritic cell therapy administration.
Immunotherapy.
Solid malignancy management.
Education:
DNB, 2007
MD, 2011, Manipal
MBBS, 2008, Manipal.
Location:
India
Get Expert Opinion from Dr. Suman S Karanth