Dr. Subodh Chandra Pande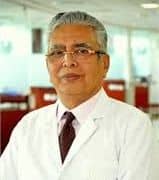 Radiation Oncology and Cyberknife
Main Speciality:
Radiation Oncology and Cyberknife
33 + years of experience
Qualifications:
MBBS, MD(Dr. MGR Medical University)

Send Enquiry
About Doctor:
Dr. Subodh Chandra Pande is an experienced and dynamic radiation oncology specialist in India and has been practicing for almost 33 years. He is few of those doctors who have mastered Cyberknife Radiosurgery. He has used this painless treatment in many of his procedures to treat benign and malignant tumours. He was the first oncologist to introduce the Linear Accelerator in Bhagwan Mahaveer Cancer Hospital and Research Centre, Jaipur. His field of expertise are Radiation Oncology and Brach therapy Procedures.
Work Experience:
He is currently associated as Head – Radiation Oncology with Artemis Hospital, Gurgaon .He was a former Visiting Consultant, Radiation Oncology in SMH-Curie Cancer Centre, Shanti Mukand Hospital, Delhi in 2008 and Pushpanjali Crosslay Hospital, Ghaziabad, 2007 .He was Director of Medical Services in Bhagwan Mahaveer Cancer Hospital and Research Centre, Jaipur, 2005.He worked as Senior Consultant, Radiation Oncology, Indraprastha Apollo Hospital, Delhi, 1997 and Consultant, Radiation Oncology, Tata Memorial Hospital, Mumbai, 1982. He was a member of various renowned organizations as Association of Radiation Oncologists of India (AROI), Indian Society of Oncology (ISO), Association of Medical Physicists of India, Paediatric Haematology & International Society of Paediatric Oncology (Slop).
Speciality Interests:
He has special interest in the use of Image Guided Radiation Therapy (IGRT) and PET scan based techniques for cancer management.
Location
India
Get Expert Opinion from Dr. Subodh Chandra Pande