Dr. Subbiah Shanmugam
Dr. Subbiah Shanmugam – Surgical Oncologist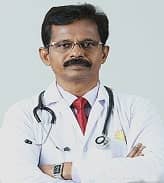 Main Speciality:
Surgical Oncologist
20+ years of experience
Qualifications:
MBBS, MS, Mch

Send Enquiry
About Doctor
Dr. Subbiah Shanmugam is a renowned Surgical Oncologist, with a thriving experience of more than 20 years.
He has expertise in the field of Head and neck malignancies- surgical resection and reconstruction, Breast tumors- both conservative and radical resections, sentinel node mapping, reverse axillary mapping, Gastrointestinal malignancies – endoscopic evaluation, laparoscopic diagnosis with resection, Open surgical procedures, Gynecological malignancies, Musculoskeletal tumors – limb-sparing and amputations.
He is a professional member of the Association of Surgeons India, Indian Association of Surgical Oncologists, Indian Association of Endocrine Surgeons, Indian Society of Oncologists. Dr. Subbiah has several publications and orations to his credit in national as well as international peer-reviewed journals.
Specialization
Head and Neck Tumor
Cancer Surgery
Cancer Treatment
Cancer Screening (Preventive)
Stem Cell Transplantation
Breast Cancer Treatment
Melanoma Treatment
Ewing's Sarcoma Treatment
Giant Cell tumor Treatment
PICC Line Insertion
Chemotherapy of Solid Tumors
Chemotherapy of Haematological Malignancies
Breast Cancer Management
Education
MBBS, Government Tirunelveli Medical College
MS
MCh, Government Kilpauk Medical College
Location
India
Get Expert Opinion from Dr. Subbiah Shanmugam.