Dr. Sankar Srinivasan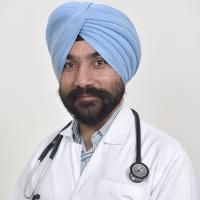 (Medical, Haemato) Oncology
Main Speciality:
(Medical, Haemato) Oncology
15 + years of experience
Qualifications:
MBBS (Guru Gobind Singh Medical College, Faridkot, Punjab), MD (Army Hospital Research and Referral (R&R), New Delhi), DNB (Army Hospital Research and Referral (R&R), New Delhi)

Send Enquiry
About Doctor:
Dr. HS Darling is one of the well reputed, dedicated and skilled cancer specialists who have served the Indian Air Force for 5 years as a senior medical officer. He strongly believes that every cancer patient should get the best treatment available in the world irrespective of socio-economic status and has contributed to the same by his services for cancer prevention and awareness drives on a regular basis. He had also won multiple awards at the State and National Level in health and welfare programs for his greatness. Apart from this he had several publications to his credits. He always provides multidimensional approach towards patients and care-givers as a doctor and friend for strengthening the cancer patients and affected families to face the situation powerfully.
Work Experience:
He currently associated as a consultant in Narayana Super speciality Hospital, Guru Gram. After having donned the sky blues in Indian Air Force, he has served as Senior Medical Officer for 5 years in Indian Air Force. He has worked in Medical Oncology & Hemato-oncology in Artemis Hospital, Guru Gram. He holds membership with Multinational Association of Supportive Care in Cancer, European Society of Medical Oncology, Delhi Oncology Forum, Young Oncologists Group of India, Yodhas- a cancer care group and Delhi Medical Council.
Speciality Interests:
He holds special interest in lung, breast, and paediatric, hepato-biliary and haematological cancers. He has specialisation widely in many fields like Analysis and sampling of arterial blood, Aspiration and biopsy of the bone marrow, Biopsy of the liver and kidney, Breast Cancer, Brain Cancer, Chemotherapy for Haematological Malignancies, Cancer Screening, Colorectal Cancer, Ewing's Sarcoma Treatment, Harvesting and infusion of the bone marrow, Administration of Complex Chemotherapy, Hepatic Cancer, Hickmann Catheter Insertion, Hormone therapy for prostate cancer, Hormone therapy for Breast Cancer, Administration of Immunotherapy,Intrathecal Therapy, Lung Cancer, LumbarPuncture, Lymphoma, Leukemia, Melanoma, Oral Cancer, PICC line insertion, Pleurocentesis,Paracentesis, Peripheral Stem Cell Harvesting and Infusion, Renal Cancer, Sinonasal Malignancies, Trucut biopsies
Awards and Honours:
He was a Recipient of American cancer society fellow award Ohio and has won Best Motor award by residents during his fellowship.
Location
India
Get Expert Opinion from Dr. (Sqn.Ldr) HS Darling