Dr. Saurabha Kumar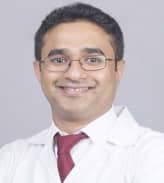 Medical Oncologist
Main Speciality:
Radiation Oncologist
13+ years of experience.
Qualifications:
MBBS, MD

Send Enquiry
About Doctor:
Dr. Saurabha Kumar is a radiation oncologist with 13+ years of experience. His areas of expertise include conventional and conformal radiation therapy techniques, pediatric tumors, head and neck oncology, gynecological oncology and SBRT/ SRS/ Brachytherapy.
He is a member of the Association of Radiation Oncologists of India. After completing MBBS from JSS Medical College, Mysore and MD from Kasturba Medical College, Karnataka.
He has several national presentations to his credit. He has numerous scientific publications in various national journals.
Specialization:
Conventional and conformal radiation therapy techniques,
Pediatric tumors,
Head and neck oncology,
Gynecological oncology,
SBRT/ SRS/ Brachytherapy
Education:
MD, 2010, Kasturba Medical College, Manipal
MBBS, 2006, J.S.S Medical College, Mysore
Location:
India
Get Expert Opinion from Dr. Saurabha Kumar