Dr. Sanjiv Sharma
Dr. Sanjiv Sharma – Radiation Oncologist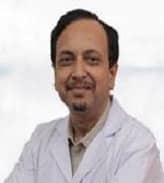 Main Speciality:
Radiation Oncologist
33+ years of experience
Qualifications:
DNB, MD, MBBS

Send Enquiry
About Doctor
Dr. Sanjiv Sharma is an eminent Radiation Oncologist with experience of more than 33 years. His area of Specialisation covers Cancerous and Non-Cancerous Tumours.
He is adept in dealing with Intracavitary, Interstitial, Intraluminal and Surface Mould Brachytherapy techniques using after loaded Caesium and Iridium sources and modern Radiotherapy techniques.
He also performs TRUS guided Prostate Brachytherapy, manual and remote after loading Iridium Brachytherapy and Ultrasound guided Breast Brachytherapy.
He is a member of several prestigious associations, which include Association of Radiation Oncologists of India, Association of Medical Physicists of India, American Society of Radiation Oncology (ASTRO), and European Society of Radiation Oncology (ESTRO).
Specialization
Cancerous Tumors,
Non-Cancerous Tumors,
TRUS guided Prostate Brachytherapy,
Breast Brachytherapy.
Education
Fellowship, 2008, William Beaumont Hospital, Royal Oak, Michigan, U.S.A.
Fellowship, 2006, University of Wisconsin, Madison, U.S.A.
Fellowship, 2004, Ohio State University, Columbus, U.S.A.
Fellowship, 2002, Memorial Sloan Kettering Cancer Centre, New York, U.S.A
Fellowship, 1999, Johns Hopkins Oncology Centre, Baltimore, U.S.A.
Fellowship, 1997, International School for Palliative Care, Oxford, UK
Fellowship, 1994, Memorial Medical Centre, Long Beach, California, U.S.A.
DNB, 1989, National Board of Examination, New Delhi
MD, 1987, Post Graduate Institute of Medical Education and Research, Chandigarh
MBBS, 1984, Indira Gandhi Medical College, Shimla
Location
India
Get Expert Opinion from Dr. Sanjiv Sharma.