Dr. Sandeep Nayak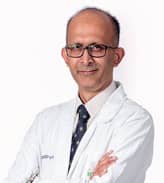 Medical Oncologist
Main Speciality:
surgical oncologist
21+ years of experience.
Qualifications:
MS, MBBS

Send Enquiry
About Doctor:
Dr. Nayak is the Director, Department of Surgical Oncology, Fortis Hospital, Bannerghatta Road. A pioneer in Laparoscopic Surgery for the treatment of Cancer, Dr. Sandeep Nayak is one of the most eminent experts in Surgical Oncology with extensive experience of 21 years in open Laparoscopic & Robotic Cancer Surgeries. As a Surgical Oncologist, Dr.Nayak has a mission to improvise on Cancer Care in India by initiating thorough awareness of the disease through information about prevention & timely management of Cancer. He has performed over 100 Laprascopic surgeries.
He is a pioneer in advanced laparoscopic cancer surgery:
Minimally Invasive Neck Dissection (MIND) for cancer of the mouth.
Modified Video Endoscopic Inguinal Lymphadenectomy (VEIL) for the groin nodes.
Specialization:
Reconstructive, Microvascular Surgery
Thyroidectomy
Splenectomy
Rectal Cancer Surgeon Colon Cancer
Colon Cancer Surgery
Breast Cancer Surgeries
Esophageal Cancer Surgeon
Laparoscopic Cancer Surgeon
Thyroid Swelling
Stomach or Gastric Cancer
Colon and Rectal cancer
Kidney (renal) Cancer
Mouth (Oral) Cancer
Education:
DNB, 2011, DNB board, New Delhi.
DNB, 2005, DNB board, New Delhi.
MBBS, 1998, Kasturba Medical College.
Location:
India
Get Expert Opinion from Dr. Sandeep Nayak