Dr. Samskruthi P Murthy
Dr. Samskruthi P Murthy – Surgical Oncologist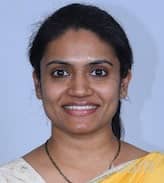 Main Speciality:
Radiation Oncology
10+ years of experience
Qualifications:
FHNO, MCh, MS, MBBS.

Send Enquiry
About Doctor
Dr. Samskruthi P Murthy is a Head & Neck Oncologist with more than 10 years of experience in the field. She has been a visiting Clinical Scholar in the Department of Head and Neck Oncology, University of Pittsburgh Medical Center, Pittsburgh, the USA from July 2017.
She completed her MBBS from Amrita Institue of Medical Sciences, Kochi in 2008; post-graduation in Otorhinolaryngology (ENT) from J.S.S Medical College & Hospital, Mysore and M. Ch – Head and Neck Surgery/Oncology from Kochi.
She later also completed a Fellowship in Head & Neck Oncology from Kidwai Memorial Institute of Oncology, Bangalore.
She specializes in simple/complex oral cavity resections, total/partial laryngectomy, maxillectomy, skull base surgery, radical neck dissection, thyroidectomy, parotidectomy, dysphagia, swallowing rehabilitation, and laryngeal speech rehabilitation.
She has won various awards including Best Publication by Indian Author, Best Research Award at National/International conferences, etc. Dr. Murthy has authored several publications in reputed journals and has authored various book chapters.
Specialization
Tonsillectomy
Cochlear Implant Surgery
Fess + Adenoidectomy
Glossectomy
Head and Neck Cancer
Mastoid Tympanoplasty
Sinus surgery
Thyroid Cancer
Tracheostomy
Maxillectomy
Education
MBBS, 2008, Kochi, India
2011, JSS University, Mysore
MCh, Kochi, India
Fellowship, Kidwai Memorial Institute of Oncology, Bangalore, India
Location
India
Get Expert Opinion from Dr. Samskruthi P Murthy