Dr. S M Shuaib Zaidi
Dr. S M Shuaib Zaidi – Surgical Oncologist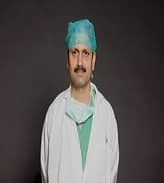 Main Speciality:
Surgical Oncology
18+ years of experience
Qualifications:
MBBS, MS(Surgery), DNB(Surgery), Mch(Surgical Oncology)

Send Enquiry
About Doctor
Dr. S. M Shuaib Zaidi is a renowned Surgical Oncologist with experience of more than 18 years.
He is skilled in performing Thoracic Oncology Surgery and Robotic Surgery. He carries out Surgeries for Lung cancer, esophageal cancer, Breast cancer, Mediastinal Cancer and Gastrointestinal cancer.
He is a pioneer in introducing an innovative technique for head and neck surgery known as Radical Neck dissection which helps to preserve the marginal mandibular nerve in order to ease the procedure.
He is also known for doing Robotic Esophagectomy and Lobectomy for oesophageal and lung cancer respectively in Delhi in 2011. He is a member of IASO and ISO. The innovative Radical Neck Dissection used by him was published in the journal of surgical oncology in 2007.
Specialization
Breast Cancer and Oncoplastic Surgery
Upper GI Oncology Surgery
Pancreatic Biliary Surgery
Thoracic Surgery including Oesophagus Cancer, Lung Cancer and Mediastinal Tumours
Blood Cancer
Gynaecological Onco-Surgery
Head and Neck Cancer
Hepatobiliary Cancer
Gastrointestinal Cancer
Ocular Oncology
Uro-Oncology
Minimally Invasive Surgery
Education
MBBS, 1995, Delhi University
MS, General Surgery
DNB, 2002, General Surgery under National Board of Examination
MCh, 2005, Surgical Oncology, The Tamil Nadu Dr. M.G.R. Medical University, Chennai
2006, Clinical Fellowship, Advanced Thoracic Oncologic and Thoracoscopic Surgery, Oita University Hospital, Japan
2011, Training, Robotic Surgery, IRCAD, Strasbourg, France
Location
India
Get Expert Opinion from Dr. S M Shuaib Zaidi.