Dr. Ravikant Arora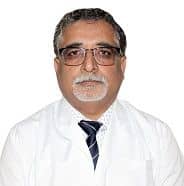 Surgical Oncologist
Main Speciality:
Surgical Oncologist
25 + years of experience
Qualifications:
MBBS, MS, FICS (Oncology), FIAS -Associate Surgeon

Send Enquiry
About Doctor
Dr. Ravikant Arora is one of the finest Onco surgeons in India with his experience of more than 25 years. He has been instrumental in establishing surgical oncology in many prestigious institutions. His experience edge in nearly all anatomic regions and his multi disciplinary approach are hallmarks of his expertise in the field and enabled him to operate on many international patients as well, namely from Iraq, Afghanistan, Nepal, Uzbekistan, Tajikistan, Fiji, Nigeria, and Sri Lanka. He has thousands of oncosurgical procedures to his credit. He has presented many papers and CMEs as part of medical education programs for professional and surgeons. He has been awarded in recognition for his contribution from East Delhi Medical Association several times.
Work Experience:
He is currently working as a Consultant in Surgical Oncology in Nayati Medicity, Mathura, and Agra. He was a former Consultant in Metro Hospital and Cancer Institute, Preet Vihar, Delhi. He has been associated with some of the most eminent cancer centres, some of them being Safdarjung Hospital Delhi, Kiwi Memorial Institute of Oncology, Bangalore, Mohan Dai Oswal Cancer Hospital Punjab, Dharamshila Cancer Hospital and Metro Cancer Hospital, Delhi. He is a life member of Association of Surgeons of India, Indian Association of Surgical Oncology, Association of Head and Neck Oncology FHNO and Indian society of Oncology.
Speciality Interests:
He is expertise in Breast Cancer Surgery, Sentinel Lymph Node Biopsy, Reconstruction in areas of Head, Neck and Oral Cavity Cancer, Thyroid and Oesophageal Cancers, Gynaecologic and Genitourinary Cancers, Gl Cancers, Soft Tissue Tumors.
Location
India
Get Expert Opinion from Dr. Ravikant Arora