Dr. Ranga Rao Rangaraju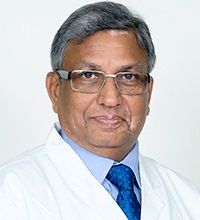 Dr. Ranga Rao Rangaraju – Medical Oncologist
Main Speciality:
Medical Oncologist
30+ years of experience
Qualifications:
DM (Oncology) from Cancer Institute (WIA), MD (Internal Medicine), MBBS

Send Enquiry
Work Experience:
Director, Medical Oncology, BLK Super Speciality Hospital, New Delhi (2011-2014)
Director, Medical Oncology, Artemis Health Institute, Gurgaon (2009-2011)
Sr. Consultant, Medical Oncology, Rajiv Gandhi Cancer Institute & Research Centre, New Delhi (2006-2009)
Education & Training:
DM (Medical Oncology), Dr .Muthulaxmi College of Oncological Sciences & Cancer Institute, Chennai (1993)
MD (Internal Medicine), Armed Forces Medical College, Pune (1984)
MBBS, Jawaharlal Nehru Medical College, Ajmer (1976)
Awards Information:
Awarded 'Vishisht Seva Medal' (VSM) by President of India for meritorious and distinguished service rendered in Armed Forces on the eve of Republic Day (2006)
Col. K.K. Gupta Memorial Gold Medal 1984 for standing first in Advance Course Medicine (1982-1984)
Speciality Interest:
Medical Oncologist
Uro-Gynae Oncology
Memberships:
Association of Physicians of India (API)
Indian Society of Oncology (ISO)
Indian Society of Medical and Paediatric Oncology (ISMPO)
European Society of Medical Oncology. (ESMO)
Indian Cooperative Oncology Network (ICON)
American Society of Clinical Oncology (ASCO)
Location
India
Get Expert Opinion from Dr. Ranga Rao.