Dr. Rama Mohan Reddy Vada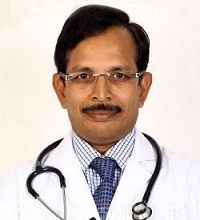 Dr. Rama Mohan Reddy Vada – Radiation Oncologist
Radiation Oncologist
Radiation Oncologist
29+ years of experience.
Qualifications:
M.B.B.S.( Sri Venkateswara University ) ,DNB General Surgery ( Nagercoil Coil,Tamilnadu), M.D –Radiotherapy( NTR University Of Health Sciences)

Send Enquiry
About Doctor
Dr. Rama Mohan Reddy Vada is a well-known, skilled and experienced radiation oncologist in India. He has a great experience of 29 years in this field. He holds the Guinness World Record for the largest number of patients (2,790 patients) screened for breast cancer (the patients simultaneous performed self-examination for breast cancer in Guntur on 20th February 2016). He encourages special drives by conducting special awareness camps, health talks and programs for the purpose of early detection of cancer to make it curable by providing the best possible treatment with precision. He has keen interest towards research and has several publications to his credit.
Work Experience:
He is currently associated as Director of CARE Outpatient Centre. He was former HOD in Continental Hospital Gacchibowli. He Worked As Consultant Radiation Oncologist At Omega Hospitals and Bobi Cancer Centre. He was former Senior Consultant Radiation Oncologist at Indo-American Cancer Institute & Research Centre, Hyderabad. He Worked As Assistant Professor In Radio Therapy For Two Years At MNJ Cancer Hospital, Hyderabad. He is an active member of Radiation Oncologists of India (AROI), Member of American Society of Therapeutic Radiologists & Oncologists (ASTRO).
Specialization
He holds expertise in Intensity Modulation Radiotherapy(IMRT) ,Image Guided Radiotherapy(IGRT), Stereotactic Radiosurgery(SRS), Stereotactic Radiotherapy (SRT) ,Stereotactic Body Radio Surgery(SBRS)Stereotactic Body Radiotherapy(SBRT) ,Adaptive Radiotherapy ,Particle Beam Radiotherapy ,Brach therapy
Education
MBBS – G B Pant Hospital / Moulana Azad Medical College, New Delhi, 1986
MS – General Surgery – G B Pant Hospital / Moulana Azad Medical College, New Delhi, 1990
MCh – Surgical Gastroenterology/G.I. Surgery – G B Pant Hospital / Moulana Azad Medical College, New Delhi, 1996
Location
India
Get Expert Opinion from Dr. Rama Mohan Reddy Vada