Dr. Rajeev Bedi
Dr. Rajeev Bedi – Medical Oncologist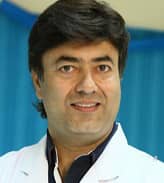 Main Speciality:
Medical Oncologist
20+ years of experience
Qualifications:
DM, MD, MBBS

Send Enquiry
About Doctor
Dr. Rajeev Bedi is an experienced Medical Oncologist with over two decades of experience in the medical management of different types of cancer. He has done his DM (Oncology) in All India Institute of Medical Sciences, New Delhi and has been associating with AIIMS for over 7 years. Subsequently he underwent training in hematology at Royal Marsden Hospital, London. Upon his return to India in 2003, he joined Fortis Hospital and he is currently the Director Oncology at Fortis Cancer Insitute.
Dr Rajeev Bedi has received fellowship from the European society of Medical Oncology. Dr. Bedi is the recipient of Gold medal and Geeta Mittal award for the best cancer researcher of the year 2002 at AIIMS by the President of India, Dr. A P J Abdul Kalam.
Clinical Interests/ Specialised Treatments /Area of Expertise: Breast Cancer, Lung Cancer, Gynecological Cancer, GI cancer, Leukemia and Lymphomas
He is a member of the Indian Medical Association, Punjab Medical Council, European Society of Medical Oncology, American Cancer Society, The American Society of Clinical Oncology.
Under his credit, there are more than 50+ national and international publications and he is actively invited as a guest speaker in scientific meetings, CME's and worldwide conferences to talk about the different types of cancer.
Specialization
Breast Cancer Management
Giant Cell tumor Treatment
Chemotherapy
PICC Line Insertion
Chemotherapy of Solid Tumors
Ewing's Sarcoma Treatment
Breast Cancer Treatment
Brachytherapy (Internal Radiation Therapy)
Education
DM, 2002, AIIMS, New Delhi.
MD, 1996, Gulburga University.
MBBS, 1992, University of Bangalore.
Location
India
Get Expert Opinion from Dr. Rajeev Bedi