Dr Praveen K. Dadireddy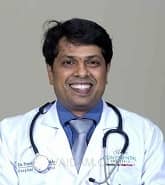 Radiation Oncologist
Main Speciality:
Surgical Oncologist
17+ years of experience
Qualifications:
M.B.B.S, M.R.C.S

Send Enquiry
About Doctor:
Dr Praveen Kumar Dadireddy is an experienced oncologist and has received his training in India, UK, and the USA. He has attended various courses such as Breast Ultrasound Course at Doncaster UK, Sentinel Node Biopsy certified course, Oncoplastic Masterclass at Dallas, USA among other courses. He has been an active member of organizations such as ULH Trust, NICE, and the Vice President of the Junior Doctors Organization at the Trust. He aims to establish and successfully run a dedicated breast unit with an emphasis on wholesome care of the patient including clinical, psychological, and supportive care with an emphasis on concepts of screening, one-stop breast walk-in clinics, multidisciplinary team care.
Expertise:
Mastectomies and other breast conservative surgical procedures.
Breast Oncoplastic and Reconstructive Advanced Procedures
Harvesting and application of split skin grafts, pedicle and Grisotti Flap
Management of head and neck oncology cases
Immediate and delayed breast reconstruction
Participate in various national breast trials in UK
Cosmetic and Aesthetic Breast Surgical Procedure
Sentinel node biopsies
J Wire localisation of breast lesions and targeted surgical excision
Advanced Laparoscopic procedures
Speciality Interests:
Reconstruction of breast with implants, flaps, expanders and lipo filling, Cosmetic and Aesthetic Breast Surgery including Augmentation, Reduction of breasts, Breast Lift, Gynaecomastia, Sentinel Node biopsy and Minimal Access Axillary Clearance, J wire localization of impalpable breast lesions with targeted excision.
Location
India
Get Expert Opinion from Dr Praveen K. Dadireddy