Dr. Piyush Kumar Agarwal
Dr. Piyush Kumar Agarwal – Surgical Oncologist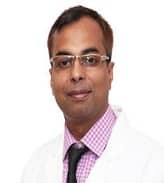 Main Speciality:
Surgical Oncologist
12+ years of experience
Qualifications:
MBBS, MS, MCh

Send Enquiry
About Doctor
Dr. Piyush Kumar Agrawal has a vast experience of more than 12 years in managing cancer patients. His areas of expertise is Head & Neck and urogynecological cancers. He has pioneered in development of minimalistic incisions for oral cancer surgery with single incision and pull through technique without scar on face.
He has special interest in thyroid and Parotid tumor surgeries. He also has extensive experience in Gynae & Urological Malignancies with minimal access approach as well as mini laparotomy for gynecological cancer surgeries. He has vast experience in limb preservation surgery for soft tissue sarcomas with large no of successful surgeries of this kind in his professional career.
He has been extensively trained for oncoplasty for head and neck cancers as well as soft tissue sarcomas. He continually strives to deliver superior outcomes with minimal morbidity and best possible cosmetic results without compromising oncological principles while remaining patient-centered.
Specialization
Head & Neck Cancers
Thyroid and parotid surgeries
Gynecologic Cancers ( Uterus, Cervix, Ovary, Vulva and Vaginal Cancers)
Skin Cancers
Thoracic Cancers ( Lung, Rib Cage, Thymus, Trachea)
Limbs Preservation Surgery (Soft Tissue Sarcoma and Skin cancers)
Urological Cancers (Urinary Bladder, Testis, Penis)
Oncoplasty
Education
MBBS, LLRM Medical College, Meerut
MS, General Surgery, SN Medical College, Jodhpur
MCh, Surgical Oncology- BJMC & GCRI, Ahmedabad
Location
India
Get Expert Opinion from Dr. Piyush Kumar Agarwal.