Dr. Noaline Sinha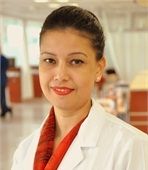 Nuclear Medicine
Main Speciality:
Nuclear Medicine
9 + years of experience
Qualifications:
MBBS(Lady Hardinge Medical College, Delhi University),Post Graduation in Radiation Medicine (Institute of Nuclear Medicine and Allied Science, Delhi University), Radiation Safety Officer (RSO) Certification Examination.

Send Enquiry
About Doctor:
Dr. Noaline Sinha is skilled and well known Nuclear Medicine Specialist in aspect of both diagnostic and therapeutic. She has more than 9 years of experience in reporting whole body PET-CT studies, cardiac PET studies; myocardial perfusion studies as well as innumerable other nuclear medicine procedures, including intraoperative use of hand held gamma probe. She has special interest in the treatment of patients of carcinoma thyroid with high dose I-131 therapy. She had played a major role in guiding the Department of Nuclear Medicine and PET CT through the NABH programme (National Accreditation Board for Hospitals and Healthcare Providers) through successive years, creating all workflow processes and documentation related to the same in her employment. She has published several papers in India and abroad.
Work Experience:
She is currently associated as Chief in Department of Nuclear Medicine in Artemis Hospital, Gurgaon.She had worked as a Consultant in Department of Nuclear Medicine in Max Heart and Vascular Institute. She was a former Senior Registrar in Department of Nuclear Medicine in Max Heart and Vascular Institute, Batra Hospital, Apollo Hospitals .She was a Junior Resident in Lady Hardinge Medical College. Society of Nuclear Medicine, India (SNMI) .She holds membership with Association of Nuclear medicine Physicians of India (ANMPI), World Association of Radiopharmaceutical and Molecular Therapy (WARMTH), Medical Council of India and Delhi Medical Council.
Speciality Interests:
She holds expertise in Diagnostic Nuclear Medicine, Therapeutic Nuclear Medicine with special interests in Oncology and Cardiology, Radiotherapy planning using PET CT, High Dose I-131 therapy for the treatment of thyroid cancer.
Location
India
Get Expert Opinion from Dr. Noaline Sinha