Dr. Nitin Leekha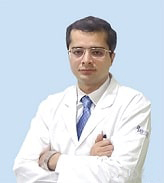 Medical Oncologist
Main Speciality:
Surgical Oncologist
14+ years of experience.
Qualifications:
MBBS, MS, MCh

Send Enquiry
About Doctor:
Dr. Nitin leekha is a Senior Oncosurgeon who has been trained at the leading most cancer centers in India and abroad. Dr. Nitin Leekha is one of the Surgical Oncologist with experience of nearly 14 years.
He has membership with the Indian association of surgical oncology, European society of Surgical oncology- ESSO, Society of Endoscopic and Laparoscopic surgeons of India (SELSI), and Association of Surgeons of India (ASI).
He is skilled in advanced Laparoscopic procedures including Minimally Invasive Esophagectomies, Laparoscopic Gastrectomies, Laparoscopic Whipples, Laparoscopic Colectomies, Laparoscopic and Laparoscopic Anterior resections, and APR.
Dr. Leekha has successfully performed breast cancer including all types of Oncoplastic Breast cancer surgeries, Breast conservation, Radical Mastectomy and Reconstructions
Specialization:
Cryosurgery
Laser surgery
Electrosurgery
Microscopically controlled surgery
Education:
MBBS, University of Delhi
MS, Moulana Azad Medical College, New Delhi
MCh, Regional Cancer Centre, Trivandrum
Location:
India
Get Expert Opinion from Dr. Nitin Leekha