Dr. Niti Raizada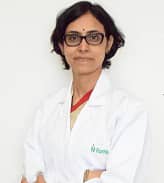 Medical Oncologist
Main Speciality:
Medical Oncology
18+ years of experience
Qualifications:
MBBS, DNB

Send Enquiry
About Doctor:
Dr. Niti Raizada is the Director Medical Oncology and Hemato Oncology, and Transplant Physician at Fortis Hospital, Bannerghatta Road. She is also Lead Medical Oncology and Hemato Oncology, and Transplant Physician at Vikram Hospital Bengaluru. With an experience of 18 years.
Dr. Niti has managed over: 1)Chemotherapies, Biologic Therapies and Immunotherapies every year. 2) 5000 Bone marrow procedures and other procedures like Intrathecal, Intra peritoneal, Intra pleural chemotherapies.
Dr. Niti has lead pioneering efforts in new drug discoveries through clinical trials from Phase 1 to Phase 4 and has practice across paediatric to geriatric age groups. She has utilised her immense experience in initiating &setting up a premier Oncology Unit at Vikram Hospital, Bengaluru as well as furthering the advances in Cancer Institute, Fortis Hospital.
Specialization:
Chemotherapy
Immunotherapy
Home-care team
Bone Marrow Procedure
Pleural Fluid tapping
Ascitic Fluid tapping
Lumbar Puncture
Laboratory
Histopathology
Cytology Guided by Ultrasound
CT Guided Biopsy
Hormonal therapy
Home Palliative Care
Day Care
Chemoport Flushing
Education:
DNB, 2004, National Board Of Examination.
MD, 2002, GR Medical College, Gwalior.
MBBS, 1997, Gandhi Medical College, Bhopal.
Location:
India
Get Expert Opinion from Dr. Niti Raizada