Dr. Naresh Kumar Soni
Dr. Naresh Kumar Soni – Surgical Oncologist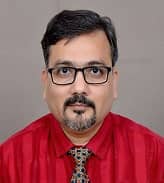 Main Speciality:
Surgical Oncologist
21+ years of experience
Qualifications:
MBBS, MS, Fellowship

Send Enquiry
About Doctor
Dr. Naresh Kumar Soni is a prominent Senior Oncosurgeon, Breast Oncoplastic Surgeon & Breast Disease Specialist. He holds extensive experience of more than 21 years in the specialty of Surgical Oncology. He has vast experience in performing all types of cancer surgeries which includes Splenectomy, Head and Neck Tumor / Cancer Surgery, Cancer Screening (Preventive), Giant Cell tumor, Breast Cancer, Lung Cancer, and Gynecological Cancer.
He has completed a clinical fellowship in the field of breast surgery from Sydney Breast Cancer Institute, Australia, and also actively involved in spreading cancer awareness in the community.
He has a number of research publications and presentations to his credit. He worked as a chief editor of the magazine "Medic News" an official Publication of MPS.
Specialization
Breast Cancer Screening
Stem Cell Transplantation
Breast Cancer Treatment
Cancer Treatment
Breast Cancer Management
Cancer Screening (Preventive)
Lung Cancer Treatment
Oral Cancer Treatment
Gynecological Cancer Treatment
Head and Neck Tumor / Cancer Surgery
Cancer Surgery
Vulvar Cancer Surgery
Malignancy
Pancreas
Pancreatic surgery
Education
MBBS, SMS medical college
MS, SMS Medical College, Jaipur.
Fellowship, Gujrat Cancer & Research institute, Ahmedabad
Location
India
Get Expert Opinion from Dr. Naresh Kumar Soni