Dr. Nanda Rajaneesh
Dr. Nanda Rajaneesh – Surgical Oncologist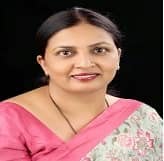 Main Speciality:
Surgical Oncologist
22+ years of experience
Qualifications:
MBBS, MS, MRCS

Send Enquiry
About Doctor
Dr. Nanda Rajaneesh, an eminent Surgeon, endowed with rich and diverse experience and distinguished academic record, has established herself as a Specialist in Breast surgery, Minimal invasive Gastrointestinal surgery(Laparoscopy) and Surgical Oncology. She has acquired many degrees through extensive training in surgical field and is member of royal college of surgeons.
As a leader in the medical profession, Dr. Nanda has extensively involved in treating breast cancers and bringing awareness on breast cancer prevention.
Professionally he is associated with the Association of Surgeons of India (ASI), AMASICON, IAGS, Medi Tel India, and Association of Colorectal Surgeons of India.
He has expertise over the treatment of Laparoscopic Hernia Repair, Bariatric (Gastric Bypass) Surgery, Breast Cancer Treatment, Hernia Repair Surgery, Gall Bladder (Biliary), Stone Treatment, and Gastric Plication.
Specialization
Breast Cancer Treatment
Hernia Repair Surgery
Gall Bladder (Biliary) Stone Treatment
Gastric Plication
Laparoscopic Adjustable Gastric Band
Laparoscopic Appendicectomy
Laparoscopic Sleeve Resection
Laparoscopic Cholecystectomy
Breast Lump Treatment
Education
MBBS, Kevempu University
MS, Rajiv Gandhi University of Health Sciences
MRCS, Rajiv Gandhi University of Health Sciences, Bangalore, India
Location
India
Get Expert Opinion from Dr. Nanda Rajaneesh.