Dr. Mudhasir Ahmad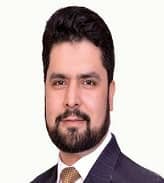 Medical Oncologist
Main Speciality:
Surgical Oncologist
9+ years of experience.
Qualifications:
MCh, MS, MBBS

Send Enquiry
About Doctor:
Dr. Mudhasir Ahmad is a well known consultant Medical oncologist with over 9 years of experience in medical oncology, malignant hematology, immunotherapy and targeted therapy. His primary specialty is solid organ cancers. He has special interests in targeted therapies and immunotherapies in lung cancer, breast cancer and gastrointestinal cancers.
He has many national and international publication to his credit. He has attended precaptorship program internationally in Prague (Immunotherapy) and Singapore (Lung cancer). He has received Indian Council of Medical Research (ICMR) grant for research presentation in Barcelona, Spain. He is a member of national and international Cancer Organizations.
Specialization:
Malignant hematology, Immunotherapy, Targeted therapy
Education:
Location:
India
Get Expert Opinion from Dr. Mudhasir Ahmad