Dr. Mathangi J.
Dr. Mathangi J. – Surgical Oncologist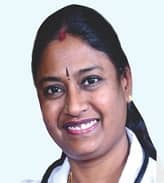 Main Speciality:
Radiation Oncologist
16+ years of experience
Qualifications:
MBBS, DNB

Send Enquiry
About Doctor
Dr. Mathangi J is a well-known Radiation Oncologist. Her medical interests are the treatment of Hepatobiliary cancers, Hypofractionated radiotherapy, Gating techniques, Treatment of Endometrial cancers and Treatment of Lung cancers, etc.
She has 16 years of experience in the field of Radiation Oncology. She has been honored with a Gold Medal, AROI, TN and Pondy Chapter – 2006.
She is an active member of various organizations including the European Society for Radiotherapy & Oncology (ESTRO), American Society for Therapeutic Oncology (ASTRO), Association of Radiation Oncologists of India (AROI), and European Society of Medical Oncology (ESMO). Prior to working with BGS Global Hospital, she has worked with various medical institutions across India.
Specialization
Treatment of Hepatobiliary cancers
Hypofractionated radiotherapy
Gating techniques
Treatment of Endometrial cancers
Treatment of Lung cancers
Women cancer management – Breast and cervix
Breast Cancer Treatment
Treatment of Head and neck cancers
Adaptive radiotherapy
Image-guided radiotherapy (IGRT)
Stereotactic radiosurgery (SRS)
Treatment of Cervix cancers
Cancer screening programs
4DCT
Cancer awareness talks
3D Conformal Radiation Therapy
Treatment of Benign brain tumors
Stereotactic body ablative radiotherapy (SBRT)
Treatment of GI cancers – Esophagus, rectum
Brachytherapy (Internal Radiation Therapy)
RapidArc
Intensity-modulated radiotherapy ( IMRT)
Treatment of GU cancers – Prostate, bladder
DIBH- heart sparing technique for Left-sided breast cancers
Treatment of Brain tumors
Education
MBBS, 1998, Stanley Medical College & Hospital , Chennai
DNB, 2009, Radiotherapy – Apollo cancer speciality hospital, chennai
Location
India
Get Expert Opinion from Dr. Naresh Kumar Soni