Dr Manish Pruthi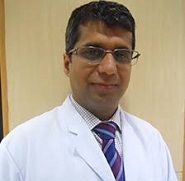 Dr. Prabhat Gupta – Surgical Oncologist
Main Speciality:
Orthopaedic Onco surgeon12+ years of experience.
Qualifications:
MBBS( Maulana Azad Medical College, Delhi ), MS( PGIMER, Chandigarh), DNB, Fellowship, Musculoskeletal Oncology, Tata Memorial Hospital, Mumbai, Diploma (Tissue Banking ,NUS ,Singapore)

Send Enquiry
About Doctor
Dr Manish Pruthi is one of the renowned Musculoskeletal Onco surgeon across the country with an experience of 12 years. He has performed about 350 major orthopaedic surgeries in the last 2.5 yrs of his tenure at the Hospital. This includes challenging trauma cases, major tumor resections, management of bone infections and non-unions. The list of such cases has international patients from Asia and Africa. Besides being a skilled surgeon, Dr Manish Pruthi is also an active researcher. He has about 16 publications in national and international journals. He has presented more than 40 research papers/ posters in various national and international conferences.
Work Experience
He is working as a Consultant (Orthopaedics Unit) in Rajiv Gandhi Cancer Institute & Research Centre, Rohini, and Delhi .He worked as a Consultant in Mumbai. He was a former Assistant Professor, Delhi State Cancer Institute. He also worked as an Assistant Professor in Orthopaedics, Government Medical College & Hospital, and Chandigarh. His Breakthrough Cases were Total Femur Replacement for Osteosarcoma Femur (U.A.E patient), Allograft-vascularised fibula composite for infected non-union femur (Yemeni patient). He is an active member of Indian Orthopaedic Association (IOA), Indian Musculoskeletal Oncology Society (IMSOS), and Bombay Orthopaedic Society (BOS).
Specialization
His area of expertise are Orthopaedics & Musculoskeletal Oncology, Bone tumours, Limb salvage surgeries, Pelvic tumours, Recycling of tumour bone, Tumours in children, Expandable prosthesis Soft tissue sarcomas, Limb sarcomas, Skin Cancers, Squamous carcinomas, Malignant Melanomas General Orthopaedics, Hip fractures.
Location
India
Get Expert Opinion from Dr Manish Pruthi