Dr. Manish Julaha
Dr. Manish Julaha – Surgical Oncologist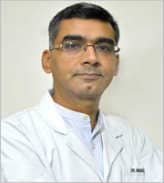 Main Speciality:
Surgical Oncologist
7+ years of experience
Qualifications:
MBBS, MS

Send Enquiry
About Doctor
Dr. Manish Julaha is a Consultant in head and neck Oncosurgery with an experience of 7 years. His avid interest lies in oral and thyroid cancer. He received Lala Kotu Ram Memorial Award by AOI, Haryana in 2013.
Dr. Julaha is the member of Association of Otolaryngologists of India (AOI); India Association of surgical oncology and The Foundation for Head and Neck Oncology.
He has published papers in both national and international publications and has given various paper presentations at national and international conferences.
Dr. Julaha has worked on two research projects at Tata Memorial Hospital – Pre-operative assessment of mandibular invasion in patients of squamous cell carcinomas of oral cavity; comparative study of clinical examination, USG, CT scan and PET CT in the accurate date.
He has published papers on Endoscope-assisted myringoplasty. SMJ 2009; 50(5):510; and Naso-oral fistula due to rhinolithiasis: a rare presentation. Journal of Oral Science, Vol.51, No.3, 481-483, 2009.
Dr. Julaha has MSTP training and Fellowship in Surgical Oncology. He has attended training in Head and Neck Surgical Oncology from Tata Memorial Hospital, Mumbai in 2008. He has done MS in ENT from Pt. B.D. Sharma PGIMS, Rohtak in 2006; and MBBS from Pt. B.D. Sharma PGIMS, Rohtak in 2002.
Specialization
Breast Cancer Treatment,
Giant Cell tumor Treatment,
Ewing's Sarcoma Treatment,
Gynecological Cancer Treatment,
Parotid Surgery,
Chemotherapy,
Brachytherapy (Internal Radiation Therapy),
Cytology Guided by Ultrasound,
Head and Neck Tumor / Cancer Surgery,
Thyroidectomy,
Cancer Surgery,
Cancer Screening (Preventive),
Lung Cancer Treatment,
External Beam Radiation For Prostate Cancer,
Oral Cavity Cancers,
Thyroid and Parathyroid tumors,
Laryngeal tumors,
Nasal and Paranasal sinus tumors,
Parotid and Other salivary gland tumors,
Neck Dissection,
Laser Excision of early cancers,
Rotation and Pedicle flap reconstruction
Education
MS, 2006, Pt. B.D. Sharma PGIMS, Rohtak
MBBS, 2002, Pt. B.D. Sharma PGIMS, Rohtak
Location
India
Get Expert Opinion from Dr. Manish Julaha