Dr. Mandeep Singh Malhotra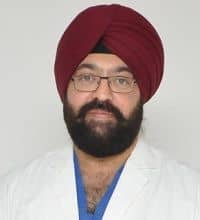 Dr Mandeep Singh Malhotra – Surgical Oncology
Main Speciality:
Surgical Oncology
15+ years of experience
Qualifications:
MBBS, MS (General Surgery), Surgical Oncology( BRA-IRCH, AIIMS)

Send Enquiry
About Doctor
Dr. Mandeep Singh Malhotra has More than 15 yrs experience in in surgical oncology and, has treated several patients with different types of cancer. He has several publications to his credit in national and international medical journals and is a respected member of renowned medical associations as well.
He is highly experienced and knowledgeable Surgical Oncologist with special interest in Head, Neck and Thyroid cancer surgery, Post Mastectomy reconstruction and Breast cancer surgery. He is trained in surgical oncology from the Institute Rotary Cancer Hospital of AIIMS. He received his training in Micro vascular reconstruction and Head and Neck oncology from Mazumder- Shaw Cancer Centre in Narayana Hrudalaya, Bangalore. Further he also specializes in General and Minimally Access Surgery.
Procedures Expertised:
Breast oncoplasty, Gynae oncology, Post Mastectomy reconstruction, Therapeutic mammaplasty.
Head, Neck and Thyroid Cancer surgery, Anterior and Lateral skull Base surgery, Oral cancer resections.
Parapharangeal tumor removal, resection of laryngopharyngeal cancer
Location
India
Get Expert Opinion from Dr Mandeep Singh Malhotra