Dr. Mallika Tewari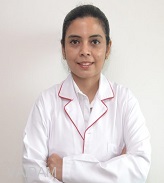 Medical Oncologist
Main Speciality:
Radiation Oncologist
14+ years of experience.
Qualifications:
MCh, MS, MBBS

Send Enquiry
About Doctor:
Dr. Mallika Tewari is a senior Surgical Oncologist with expertise in HepatoPancreatoBiliary (HPB) and Gastrointestinal (GI) Surgical Oncology. She is working as a Full Time Senior Consultant and Program Lead Surgical Oncology at Wockhardt Hospitals both at Mira Road and Central Mumbai. She has over 19 years of experience in Surgical Oncology.
Dr. Mallika has had an outstanding brilliant academic record having passed her MBBS and MS with 10 Medals and over 23 academic prizes, topper of the batch with distinctions in Surgery, Medicine, Ophthalmology and Pathology, Best Outgoing Resident Medal and Best M.Ch. Thesis award of the ICMR, New Delhi. She has completed her surgical training from Institute of Medical Sciences (IMS), Banaras Hindu University (BHU), Varanasi and All India Institute of Medical Sciences (AIIMS), New Delhi and also cleared Intercollegiate MRCS, U.K. and USMLE in her first attempt. She has worked as Assistant Professor, Department of Surgical Oncology, IMS, BHU and rose to the rank of Professor & Head of the Department and Chief of the HPB & GI Division. She is a M.Ch., DNB & PhD (Surgical Oncology) examiner and teacher with an over all teaching experience of 22 years.
Dr. Mallika is the current Editor of Indian Journal of Surgery, the official journal of the Association of Surgeons of India (ASI) and has served as Executive Member of the Indian Association of Surgical Oncology, U.P. Chapter of ASI and World Federation of Surgical Oncology Societies, awarded 2 orations and a medal. She has over 110 publications and written a book on 'Surgery for Pancreatic & Periampullary Cancer' published by Springer recently with 15000 downloads. She is also a member of ICMR Cancer Task Force, Reviewer of several reputed international journals like Surgery, Journal of Surgical Oncology, World Journal of Surgery, Pancreas etc. and regular invited faculty to various conferences of Surgical Oncology.
Specialization:
Radical Cholecystectomy
Hepatectomy
Radical Gastrectomy
Colectomies for Colon Cancer
Abdominoperineal resection
Resection for Small Intestine Cancer
Conservative Breast Surgery
Radical Mastectomy for Breast Cancer
Radical Hysterectomy for Uterine and Cervical Cancer
Optimal Cytoreduction for Ovarian Cancer
Radical Nephrectomy for Kidney Cancer.
Education:
MCh, 2009, Banaras Hindu University
MS, 2002, Banaras Hindu University
MBBS, 2000, Banaras Hindu University
Location:
India
Get Expert Opinion from Dr. Mallika Tewari