Dr. Mallika Natraj
Dr. Mallika Natraj – Surgical Oncologist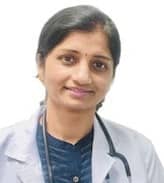 Main Speciality:
Surgical Oncologist
15+ years of experience
Qualifications:
MBBS.

Send Enquiry
About Doctor
Dr. Mallika Natraj is a famed Surgical Oncologist in India with experience of over 15+ years in the field.
She has been an active member of an NGO named Crest, founded by the renowned Breast Oncologist Dr. Jayanti S Thumsi- to create awareness about breast cancer in the country.
She completed her graduation from the well-known MRMC, Gulbarga, and has been working with the Breast Surgical Oncology team to gain immense experience in the field of treatment of breast cancer.
She has worked closely with the well-known Breast Surgical Oncologist, Dr. Jayanti S Thumsi, in Bangalore. She has been a part of more than 200+ breast cancer awareness programs and screening campaigns in Bangalore.
Dr. Natraj has covered many talk-shows in the corporate segments, in which she has given her best contribution in creating awareness about breast cancer.
She has also contributed to the most significant clinical research studies while practicing oncology simultaneously.
Specialization
Breast Oncological Surgeries
Transoral and micro laryngeal Laser surgery & Head Neck Oncology
Skull base resection and reconstruction
Post Laryngectomy voice rehabilitation
Education
Location
India
Get Expert Opinion from Dr. Mallika Natraj.