Dr Hari Goyal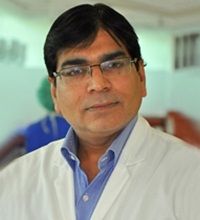 Dr Hari Goyal – Medical Oncology
Medical Oncology
MBBS, MD, DM & PDCR
Director – Oncology

Send Enquiry
Dr.Hari Goyal is among the most reputed Cancer Specialists in India. He has earned a great name because of his accomplishments for developing advanced treatment protocols for various type of cancer treatment and his contribution to development of drugs for management of chemotherapy side effects. He has to his credit more than 30 clinical publications in national and international medical journals. DrHariGoyal is widely respected for his his holistic approach to management of Cancer treatment and his ability to heal and care by best possible means
Professional Qualifications
 MD (Internal Medicine), SMS Hospital, Jaipur
DM (Oncology), AIIMS, New Delhi
Dr. Hari Goyal had the privilege to work in best of Cancer Centers of India. He started his career in the field of Oncology at Tata Memorial Centre & did the prestigious course of DM from All India Institute of Medical Sciences, New Delhi.
He is the head of Oncology unit comprising eminent doctors like Dr. Deepak Singla, Dr. Raman Kain& Dr. Smita B. Choudhury. The team effort provides great advantage to the patients' care and management.
His contribution to oncology is immense & has developed drugs for management of chemotherapy side effects. This development has helped millions of cancer patients since 2004. He was a part of large number of clinical trials of cancer research including one of the FDA audited trial. He has many prestigious awards to his credit which reflect his dedication, in- depth knowledge & collaboration with other departments to cure cancer.
His communication, truthful discussions about outcome & energetic attitude is the key to his present success. Consistency, punctuality & empathy are some of his qualities which are admired by his patients & colleagues. A hard worker with a positive attitude towards the sick, he deals with all kinds of cancer. He has a passion for cure & control of cancer which make him an exceptional oncologist. His motto is to provide comprehensive & holistic treatment to each & every cancer patient.
An expert of traditional drugs to recent advances, he is a hope, constant support & a friend of cancer patients and their families. He is adored by one & all.