Dr. H. S. Chhabra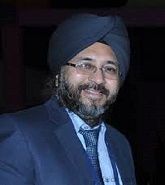 Dr. H. S. Chhabra – Spine Surgeon
Orthopaedic – Spine Surgeon
Orthopaedic – Spine Surgeon
25 years of experience
Qualifications:
MBBS, MS

Send Enquiry
About Doctor:
Dr. H.S. Chhabra is a renowned Orthopaedic spine surgeon from New Delhi. He has done his MBBS from University College of Medical Sciences, Delhi University; MS (Orthopaedics)- Safdarjung Hospital, New Delhi and Post Graduate Certificate-National Institute of Health & Family Welfare. He has organized many conferences on Laser and Spine surgery, the latest being ENDOSPINE-2007, an International Conference on Percutaneous and Endoscopic Spine Surgery, held in New Delhi on 26th and 27th of May 2007. Dr.H.S. Chhabra is currently the Chairman and Head of Orthopaedic Department, Indian Spinal Injuries Centre New Delhi. He also heads the Department of Minimally Invasive Spine Surgery.
Dr. Chhabra deals with all types of Spine patients ranging from Trauma to Tumor, Spinal Deformities, Backaches, Cervical and Lumbar Disc Herniations, Cervical Myelopathy, Spondylolisthesis and more. He has evolved a unique technique for minimally invasive spinal fusion. He is an opinion leader in the development of spinal endoscopes and other spinal implants and instruments, manufactured by famous international companies, like Karlstorz(Germany). Besides spine, he also performs complicated trauma surgery, like Pelviacetabular and Intraarticular Comminuted Fracture, Knee Replacement Surgery and Hip Replacement Surgery.
Dr. H S Chhabra is successfully performing all the Modern Spine Surgeries at Indian Spinal Injuries Centre, New Delhi with his team of spine surgeons, trained at renowned spine centers abroad. Besides Minimally Invasive Endoscopic Spine Surgery, he regularly performs surgeries like Vertebroplasty, Kyphoplasty, Cervical and Lumbar Disc Replacements, Instrumented Spinal Fusions (PLIF, TLIF, ALIF), Tumor Surgeries with Expandable Cages and Vertebral Reconstructions, Anterior Cervical Discectomy and Fusion with Cages/Plates, Scoliosis and Kyphosis Correction Surgery (Anterior/Posterior/Endoscopic). He specializes in Percutaneous Transforaminal Endoscopic Disc Surgeries under local anesthesia, where patients can resume his normal activities from the next day. This surgery is going to be the future of all spine surgeries. He is also a member of various medical centers. He has also served on the posts of director, senior director and other prestigious designations related to Neurosurgery and Orthopaedics.
Specialization
Orthopedics and Spine Surgeries,
Vertebroplasty,
Kyphoplasty,
Cervical and Lumbar disc replacements,
Instrumented spinal fusions (PLIF, TLIF, ALIF),
Tumor surgeries with expandable cages and vertebral reconstructions,
Anterior cervical discectomy and fusion with cages/plates,
Scoliosis and kyphosis corrections surgery
Education:
MBBS – University College of Medical Sciences, Delhi University, 1986
MS(Ortho) – Safdarjung Hospital, New Delhi, 1991
Post Graduate Certificate – National Institute of Health & Family Welfare, 2000
Experience:
Spine Service, Dy. Medical Director- Indian Spinal Injuries Centre , 1997
Spine Service, House Surgeon- Safdurjung hospital,New Delhi , 1988
Orthopaedics, Resident and Post Graduate Student- Safdurjung hospital,New Delhi , 1988
Orthopaedics, Senior Resident- Indian Spinal Injuries Centre , 1991
Orthopaedics, Consultant- Indian Spinal Injuries Centre , 1995
Orthopaedics, Medical Director- Indian Spinal Injuries Centre , 2007
Orthopaedics, Chief- Indian Spinal Injuries Centre , 2004
Opthalmology, Additional Medical Director- Indian Spinal Injuries Centre , 2002
Location
India
Get Expert Opinion from Dr. H. S. Chhabra