Dr. Feroz Pasha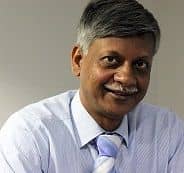 Surgical Oncology
Main Speciality:
Surgical Oncology
16 + years of experience
Qualifications:
M.B.B.S.(Calcutta National Medical College (C.N.M.C), Calcutta, Calcutta University), M.S.(Army Hospital (R&R), Delhi Cantonment, Delhi University)

Send Enquiry
About Doctor:
Dr. Feroz Pasha is a well-known onco-surgeon in India having immense experience of more than 16 years. He is well versed with all Surgical Oncology procedures with primary interest in Uro and Gynaeoncological surgeries. His expertise also lies in port implantation and radio frequency ablation of tumors. He has received many awards starting from Mr. Loyola Award for Best Student of the Year in 1977, Principal's Award in 1977 and Astronomy Award in 1977 for his academics during his schooling years. He has various medical papers and cancer researches and workshops to his name and he continues his efforts to treat cancer more and more effectively.
Work Experience:
He is currently associated as Senior Consultant in Surgical Oncology at Indraprastha Apollo Hospitals, New Delhi. He is Part of the core team of doctors at Oncology Combine, Dr.Feroz Pasha has been practicing Surgical Oncology since last 16yrs. prior to his current position, and hand e has been a consultant and visiting consultant to various cancer hospitals in India, including Apollo Millennium Hospital in Delhi. He has conducted lecture cum workshop on Totally Implantable Central Venous Access Device at Jammu Oct 2001 and many others lecture also.
Speciality Interests:
His field of interest is in Onco – Gynaecology and G I cancer surgery. He has a special interest in central venous access devices on which he has numerous papers.
Location
India
Get Expert Opinion from Dr. Feroz Pasha