Dr Devavrat Arya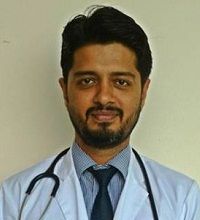 Dr Devavrat Arya
Dr Devavrat Arya – Medical Oncology
Main Speciality:
Medical Oncology
15+ years of experience.
Qualifications
MBBS, M.D, DM.

Send Enquiry
Work Experience:
Sr. Consultant, Medical Oncology at International Oncology Centre.
Hon Associate Consultant, Medical Oncology, Action Cancer Hospital, Delhi from 2011 to 2012
Education & Training:
MBBS from Maulana Azad Medical College, Delhi University
M.D. (Internal Medicine) from Govt. Medical College, Surat, (South Gujarat University)
D.M. (Medical Oncology) from Gujarat Cancer & Research Institute, B J Medical College, Ahmedabad, (Gujarat University)
Awards Information:
European Certificate in Medical Oncology, P.I. in multiple trials, Many National/ International publications & presentations
Speciality Interest:
Breast Cancer, Head and Neck Cancers, Musculoskeletal & Gynae Cancers
Location
India
Get Expert Opinion from Dr Devavrat Arya.