Dr. Deepak Chhabra
Dr. Deepak Chhabra – Surgical Oncologist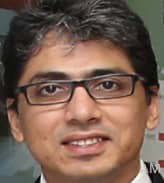 Main Speciality:
Surgical Oncologist
13+ years of experience
Qualifications:
DNB, MS, MBBS

Send Enquiry
About Doctor
Dr. Deepak Chhabra is a Surgical Oncologist with 13+ experience. Persuaded his MBBS & MS from the reputed T.N.Medical College and B.Y.L Nair Hospital, Mumbai followed by Diplomate from the National Board of Examinations. Later he got his training in Oncosurgery in Mumbai.
He has worked in some of the premier institutes like Lilavati Hospital, Mumbai, Nagoya University, Japan, Dr. L.H Hiranandani Hospital (Powai), Mumbai, and an expert in complex Hepato-Pancreato-Biliary surgeries. Received an award for his research paper at the World Congress of IHPBA and he was the first clinical co-ordinator of the Asia-Pacific Neuroendocrine tumor registry in India due to which he has a good rapport among his colleagues.
Dr.Deepak's expertise lies in Pancreatic Cancer Surgery, Liver Cancers, Bile Duct Cancers, Gallbladder Cancer Surgery, Oesophageal Cancer Surgery, Breast Cancers, Chemotherapy Post Surgery, Surgery for GIST, HIPEC Treatment, Appendix Tumors, Surgery for Colostomy, Rectum Cancer, and Colon Cancer Surgery.
Specialization
Pancreatic Cancer
Liver Cancers
Bile Duct Cancers
Gallbladder Cancer
Oesophageal Cancer.
Education
DNB, National Board of Examinations.
MS, T.N.Medical College.
MBBS.
Location
India
Get Expert Opinion from Dr. Deepak Chhabra