Dr. Bhavisha Ghugare
Dr. Bhavisha Ghugare – Surgical Oncologist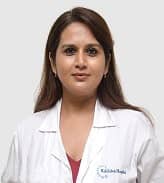 Main Speciality:
Surgical Oncologist
17+ years of experience
Qualifications:
MBBS, MS, Fellowship

Send Enquiry
About Doctor
Dr. Bhavisha Ghugare is a well-known Surgical Oncologist located in Mumbai, with a thriving experience of more than 17 years. She has a special interest in Breast Malignancy. Her expertise also lies in Breast cancer, Breast lump, Phylloide tumor, Nipple discharge, Gynaecomastia, etc.
She has successfully performed procedures such as Modified Radical Mastectomy, Breast Conservative Surgery, Microdochectomy, Lumpectomy, Breast Oncoplastic Surgery, Skin Sparing Mastectomy, Axillary Clearance, etc.
Dr. Bhavisha has a professional membership with the Association of Breast Surgeons of India and Associations of Surgeons of India.
She has conducted multiple CME for various local medical bodies and also organized various breast Cancer awareness programs. With English, she is also proficient in Hindi, Marathi, and Gujarati.
Specialization
Brachytherapy (Internal Radiation Therapy)
External Beam Radiation For Prostate Cancer
Sentinel Node Biopsy
Cancer Surgery
Splenectomy
Head and Neck Tumor / Cancer Surgery
Cancer Screening (Preventive)
Giant Cell tumor Treatment
Breast Cancer Treatment
Lung Cancer Treatment
Gynecological Cancer Treatment
Breast Cancer Management
Education
MBBS, Sri JJ group of hospital, Mumbai.
MS, Grant Medical College
Fellowship, Tata Memeorial Hospital, Mumbai
Location
India
Get Expert Opinion from Dr. Bhavisha Ghugare.