Dr. Ashu Abhishek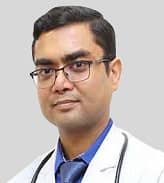 Medical Oncologist
Main Speciality:
Radiation Oncologist
11+ years of experience
Qualifications:
MBBS, MD.

Send Enquiry
About Doctor:
Dr. Ashu Abhishek is a well known Radiation Oncologist, practicing successfully for more than 11 years. he is a MBBS graduate (UCMS & GTB Hospital, Delhi) and MD (Radiation Oncology) from Maulana Azad Medical College, New Delhi.
He has also completed his observership (Aarhus University, Denmark) and skilled training in Liver IGRT (Toronto, Canada), SBRT/ Cyberknife (Boston university and Sunnyvale, USA)
Specialization:
Image-Guided Radio Therapy (IGRT)
Stereotactic Body Radio Therapy (SBRT)
Brachytherapy (Internal Radiation Therapy)
Breast Cancer Management
CNS
Head & Neck cancer
Lung cancer
Liver cancer
Pancreas cancer
Prostate cancer
Education:
Fellowship, 2016, National University of Singapore, Singapore
Fellowship, 2016, Tata Medical Centre, Kolkata
MD, 2013, SCB Medical College, Utkal University.
Location:
India
Get Expert Opinion from Dr. Ashu Abhishek