Dr Ashish Goel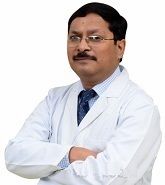 Dr Ashish Goel – Surgical Oncology
Surgical Oncology
Senior Consultant,
MBBS, MS, DNB
12+ years of experience New Delhi, India.

Send Enquiry
About Doctor
Dr. Ashish Goel is a Senior Consultant Surgical Oncologist in Delhi, India. He is currently practicing at BLK Super Speciality Hospital in Pusa Road, Central Delhi. He is also available for consultation at Samyak Hospital in Shalimar Bagh, and Vinayak Hospital in Derawal Nagar, Delhi.
Dr. Ashish Goel has more than 22 years of experience. He has keen interest in Thoracic, Gastrointestinal, Head and Neck and Breast Oncology with special focus on Video Assisted and Robotic Esophagectomy and Lung Surgery. Dr. Ashish Goel's vision, clinical expertise, dedication and patient centric approach have resulted in the growth of BLK Super Specialty Hospital.
His expertise includes Lung Surgery, Surgery for Oral Cancer, Esophageal Cancer Surgery, Surgery for Laryngeal Cancer, Thyroid Surgery, Limb Salvage Surgery, Gastrointestinal Cancer Surgery, Surgery for Uterine and Ovarian Cancer, Mastectomy and Breast Conservation Surgery, Oncoplasty and Sentinel Node Biopsy.
Dr. Ashish Goel has completed his initial education from Aligarh. He completed MBBS from J N Medical College, Aligarh in 1991, followed by MS (General Surgery) in 1995. He completed DNB (Surgical Oncology) from National Board of Examination. He has also been awarded P B Desai UICC Fellowship in Oncology from Tata Memorial Hospital, Mumbai. He has also been the member of Executive Committee Indian Society of Oncology and is presently serving as Executive Committee Oncology Forum (Delhi). He is also the Coordinator for the Delhi Thoracic Oncology Group. Dr. Ashish Goel is also the Life Member of some prestigious organizations like Association of Surgeons of India (ASI), Indian Association of Surgical Oncology, Federation for Head Neck Oncology (FHNO), Indian Society of Oncology (ISO) and Indian Laryngology Society.
His previous appointments include Consultant Surgical Oncologist at Rajiv Gandhi Cancer Institute & Research Centre in Delhi, Specialist Registrar at Tata Memorial Hospital in Mumbai, Assistant Professor at Cancer Hospital & Research Institute in Gwalior & Specialist Registrar at Mahavir Cancer Sansthan & Research Centre in Patna.
Dr. Ashish Goel has also done training like Thoracic Oncology Training from Memorial Sloan-Kettering Cancer Centre in New York, USA, and Samsung Medical centre, Seoul, South Korea. He has also been trained in Head and Neck Surgery and laser Surgery from Department of Head & Neck Surgery, University of Brescia in Italy and Training in Peritoneal Surface Surgery, CRS, and HIPEC from Department of Surgical Oncology at Catharina Hospital, Eindhoven, Netherlands.
Specialization
Thoracic
Oncology
,
Breast Oncology
, Bone Soft Tissue Sarcomas and
Head Neck
Surgery.
Work Experience
Surgical Oncology, Senior Consultant- BLK Super Speciality Hospital, New Delhi , currently working
Surgical Oncology, Consultant- Rajiv Gandhi Cancer Institute and Research Center, Delhi , 2008
Surgical Oncology , Consultant- Mahavir Cancer Sansthan and Research Institute, Delhi , 2005
Education
MBBS
MS – General Surgery – Aligarh Muslim University, UP, 1999
DNB – Surgical Oncology – National Board of Examinations, New Delhi
Fellowship – Surgical Oncology – TMH, Mumbai
Location
India
Get Expert Opinion from Dr Ashish Goel.