Dr. V. Agarwal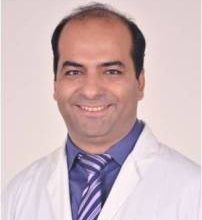 Medical Oncologist
Main Speciality:
Medical Oncologist
15 + years of experience
Qualifications:
MBBS, MD –Medicine(Maulana Azad Medical College, New Delhi) ,DM -Medical Oncology( AIIMS, New Delhi) , Short Courses like Adverse Drug Reactions, Drug Interactions and Pharmacovigilance at the University of Oxford, UK.

Send Enquiry
About Doctor:
Dr. Ankur Bahl is a well – known and leading Medical Oncologist in India. He has vast experience of more than 15 years in his field of specialisation. He has treated a good count of patients suffering from Lymphoma, Breast and Lung Cancer, Gastrointestinal tumors, Gynaecological Tumors, Head, Neck and Brain Tumors. He has received Dr. Rehan Gold Medal for being the best Outgoing Post Graduate student of Internal Medicine in Delhi University. He has multiple publications in various international and national journals.
Work Experience:
He currently practices at Max Super Speciality Hospital, Delhi. He was a former Senior Resident in Maulana Azad College, New Delhi and Rajiv Gandhi Cancer Institute & Research Centre. He holds membership with several well known associations like – American Society of Clinical Oncology (ASCO), American Association of Cancer Research (AACR), European Society of Medical Oncology (ESMO), Indian Society of Medical and Paediatric Oncology (ISMPO).
Speciality Interests:
He has specialisation in Multiple Myeloma, Lymphoma & Leukemia, Head & Neck and Brain Tumors and Gastrointestinal and Gynaecological tumor, Bone Marrow Transplantation, Breast Cancer and Lung Cancer.
Location
India
Get Expert Opinion from Dr. Ankur Bahl