Dr. Anil Takhwani
Dr. Anil Takhwani – Medical Oncologist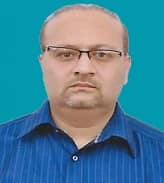 Main Speciality:
Medical Oncologist
21+ years of experience
Qualifications:
MBBS, MD

Send Enquiry
About Doctor
Dr. Anil Takhwani is a reputed Oncologist, practicing successfully for over 21 years. His area of specialization covers IGRT, IMRT, Gamma knife, and X-knife. He is proficient in carrying out diagnostic imaging procedures of CT scans and MRIs.
Besides, he performs Total Skin Electron Irradiation (TSEI), Stereotactic Radiation Therapy (SRT), template application and chemotherapy in solid tumors.
He further does procedures like EBRT planning on a simulator and treats patients on Linac. He is also credited for handling oncology emergencies like Cord Compression, Bleeding Ca cervix and SVCO independently.
He takes interest in teaching and has adorned the chair of Assistant Professor of Radiation Oncology at GGS Medical College, Punjab. The doctor is the recipient of the Certificate of Merit award in Microbiology and Biochemistry in 1995.
Dr. Anil shoulders the task of organizing CMEs, symposiums, health talks in various forums and participated at ESMO Oncology Summit in 2012.
He is the Life Member of Association of Radiation Oncologists of India (AROI) and a member of the Medical Council of India (MCI). He is associated with research and has several publications in national journals.
Specialization
IGRT
IMRT
Brachytherapy
Prostate cancer
Head and Neck cancer
Lymphomas
Ca breast
Ca cervix
Education
MBBS, 2000, Sarojini Naidu Medical College, Agra
MD, 2005, Radiotherapy, Sarojini Naidu Medical College, Agra
2006, FCCS, conducted by Society of Critical Care medicine, California, USA.
Location
India
Get Expert Opinion from Dr. Anil Takhwani.