Dr. Anil Poddar
Dr. Anil Poddar – Surgical Oncologist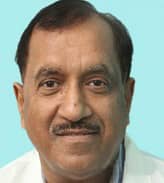 Main Speciality:
Surgical Oncologist
19+ years of experience
Qualifications:
MS, MBBS, FACS

Send Enquiry
About Doctor
Dr. Anil Poddar is a Surgical Oncologist, based in Kolkata with 19+ years of experience. His expertise lies in the management of the Breast Cancer, Head & Neck Cancer, Gastrointestinal Cancer, Endocrine Cancer, Genitourinary Oncology, Gynecologic Cancer, Ovarian Cancer, Uterine Cancer, Kidney Tumor, Pancreatic Cancer, etc.
Dr. Poddar is a member of the Indian Medical Association, The Indian Association of Surgical Oncology, The British Association of Surgical Oncology (BASO), Society of Surgical Oncology. He has done his Fellowship from the reputed American College of Surgeons, UK.
Under his credit, there are numerous national and international publications and he is actively invited as a guest speaker in scientific meetings, CME's, worldwide conferences to talk about different types of cancer.
Specialization
Head & Neck Cancer
Lung & Mediastinal Tumors
Genitourinary Cancers
Lymphoma
Skin Tumors
Soft Tissue Sarcoma
Dermatological Oncology
Gynecological Oncology
Gastrointestinal Oncology
Urological Oncology.
Education
Location
India
Get Expert Opinion from Dr. Anil Poddar