Dr. Anil Kumar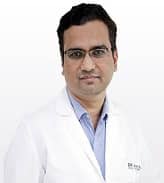 Medical Oncologist
Main Speciality:
Medical Oncologist
10+ years of experience
Qualifications:
MRCS, DNB, MBBS

Send Enquiry
About Doctor:
Dr. Anil Kumar is a well-experienced Medical Oncologist with more than 10 years of experience in the field. He completed his MBBS from Bangalore Medical College, Karnataka in 2005, MD-Medicine at PGIMER, Chandigarh, India in 2009, and DM-Medical Oncology at Kidwai Memorial Institute of Oncology in 2013.
He has rigorous three-years of training in Haematoncology, Bone Marrow Transplant, and Medical Oncology from a prestigious institute in South India.
He holds expertise in managing and treating cancers related to the Lung, Pleura, Breast, Ovarian, Cervical, Esophagus, Stomach, Small Intestine, Colon, Rectum, Liver, Gall Bladder, Pancreas, Bone, Skin, Lymphomas of all types, Brain Tumors, Kidney, Urinary Bladder, Prostrate, Head and Neck.
He has presented papers at several international conferences and has published notable articles in peer-reviewed international journals. Moreover, his publications have been cited 36 times in various international papers published in renowned journals.
Specialization:
Bladder Cancer Treatment
Breast Cancer-Surgical
Cancer in Children
Carcinoma of Unknown Primary (CUP) Treatment
Castleman Disease Treatment
Cervical Cancer Treatment
Gallbladder Cancer Treatment
Gestational Trophoblastic Disease (GTD) Treatment
Hodgkin Disease Treatment
Laryngeal and Hypopharyngeal Cancer Treatment
Leukemia in Children
Liver Cancer
Lung Cancer Treatment
Education:
MBBS, 2005, Bangalore Medical College
MD, 2009, PGIMER University, Chandigarh
DM, 2013, Kidwai Memorial Institute of Oncology
Location:
India
Get Expert Opinion from Dr. Anil Kumar